Status: Available
Sex: Male
Age: 5 Years
Adoption Cost: $55.00
Domestic Shorthair / Mix
Thomas O'Malley is sponsored by Maria Weaver of Lindsay Home "in honor of all the stray cats who need a home."
Thomas O'Malley was brought in to WHS as part of our TNR program earlier this year. After just a few minutes, staff quickly realized that Thomas is no feral cat- he is a sweet, cuddly gentleman! Thomas gets along great with other cats, and prefers to spend his time relaxing in the coziest spots he can find. While getting Thomas ready for adoption, we have also discovered that he is FIV positive. Feline Immunodeficiency Virus, better known as FIV, is a common feline disease which impacts a cat's immune system. Cats with FIV are able to lead long, normal lives, and can even live with other cats! For more information about FIV cats and their care, please reach out to the adoption center.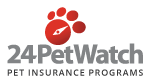 Adopt and Protect this pet with the 24PetWatch Gift of Pet Insurance. Visit us at
www.24PetWatch.com
or call 1-877-291-1524.

Save on top named brands and help homeless pets when you shop online at
www.PetangoStore.com
. Shop now to save on pet food, flea, tick, heartworm treatments, and much more!